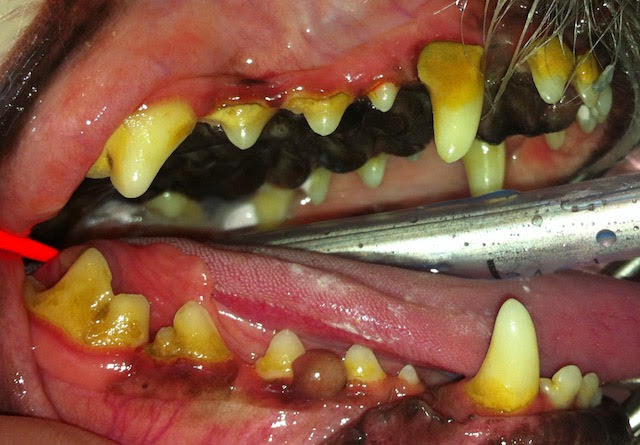 Dental Calculus prior to cleaning- this is active infection in your pet's mouth.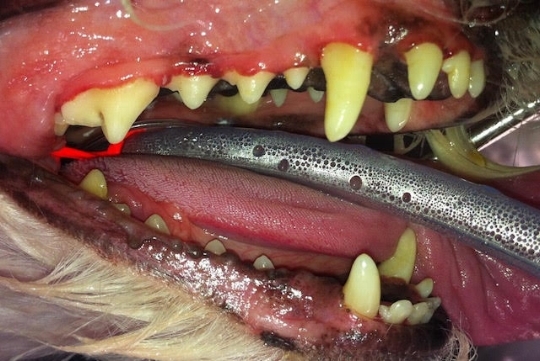 This is the same pet's mouth following removal of all plaque and infection; even under the gum line.
Dental Cleaning And Digital Dental Imaging
Nearly all pets suffer from some degree of dental disease by the age of 3 years and very few pets receive the daily brushing needed to prevent bone loss, abscess, pain and infection.  We will assess your pet's oral cavity at every visit and make note of disease that may be present as well as offer you the safest and most cost-effective options for treatment.
Routine dental cleaning and evaluation is safe and effective for eliminating plaque, bad breath and oral infections in your pets.  A thorough cleaning, including the space under the gum line (where your popcorn kernels get stuck and their bacterial infections begin) and complete dental X-rays will be performed by our Certified Veterinary Technicians.  This allows our doctors to fully evaluate all of the tooth surfaces for fractures, infection, abscesses at the root tips and even identify pre-cancerous lesions in the bones.
Every aspect of your pet's anesthesia and dental evaluation is done according to stringent AAHA (American Animal Hospital Association) guidelines, ensuring the utmost care and safety for your loved ones.
Our dental suite offers the same monitoring as pediatric human patients undergoing anesthesia. This ensures the best possible outcomes for every patient.